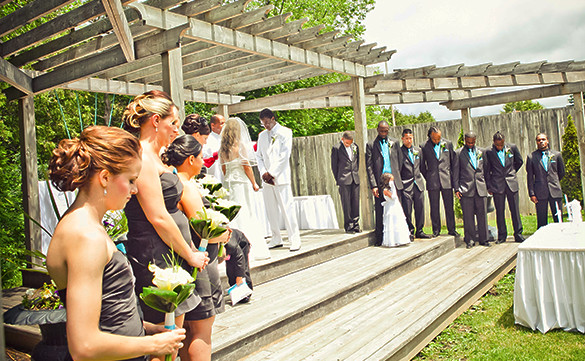 THE PAVILION
The Pavilion, conveniently located in Kitchener, is perfect for exchanging your vows in the great outdoors. Lush greenery, elegant alcove and nature's song create the perfect back drop for your outdoor wedding ceremony. The pavilion is set with stylish white bistro chairs for guests, signing table with chair.
Bingemans grounds are a beautiful backdrop for pictures to capture your special day.
Ceremony venues can be booked without booking your reception here at Bingemans, pricing may vary.
Bingemans provides a variety of options for indoor and outdoor wedding ceremonies. Please contact our event specialist.

"Everything was great the day of the wedding. Everyone at Bingemans was awesome! We were very happy to have had our wedding at your facility. Thank you very much for everything Bingemans did. The staff was great and very professional. All our guests were very happy and that meant everything to us."
- The Nowakowski's
"We had a fantastic time. Everything went as planned. The staff helping in making this a great success in three weeks was very much appreciated."
- C. O'Grady
"Thank you so much again for working with us from the very beginning right through to accommodating all our requests. It was truly a pleasure to work with your staff overall in making our wedding day so spectacular. Thank you so much again for everything."
- The Clark's
"Griselda and I were thoroughly impressed with how smooth and beautiful the day went. We thought the venue and decorations where above and beyond our expectations! It's too bad you guys don't have any control over the weather!
Thank you very much for helping with everything along the way and making our day so awesome! We will definitely recommend Bingemans as a great venue for weddings!"
- Bjorn and Griselda