Welcome to Bingemans Camping Resort!
Welcome to your grand camping experience! At Bingemans Camping Resort you are just foot steps away from a thrilling variety of entertainment options! We'll provide you with a customized getaway experience like no other, whether you're looking for a thrilling and fun-filled getaway, or a more traditional and relaxed camping experience, Bingemans Camping Resort will not disappoint!
Take your camping experience to the next level and indulge in one of Bingemans several exciting entertainment options, all right onsite! We offer special discounts and packages just for our campers!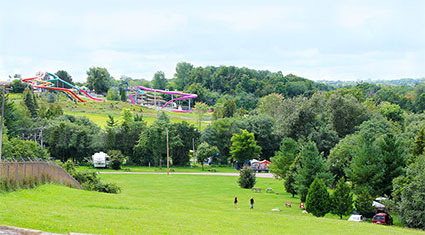 ---

The area's largest water park, offers days of fun and entertainment for kids of all ages. Spend the day in the heated wave pool, on 11 huge water slides or in Spray N Play (our splash pad for kids).

FunworX is an indoor play land located only a short walk from the campground. Enjoy a three level play structure, GameworX Arcade and more!

Bingemans offers not one, but two exciting mini golf courses to choose from. The Town and Country courses offer a fun and unique mini-golf experience for everyone!

At Kingpin Bowlounge experience 28 state of the art bowling lanes. Kingpin Bowlounge is also attached to Canada's largest Boston Pizza and the Region's largest patio with live music every Thursday night throughout the summer.

In partnership with Grand Experiences Outdoor Adventure Company, Bingemans is now offering several exciting opportunities to experience The Grand River! From day camps, overnight and day trips, to corporate, school, and social group packages, there's something to suit any adventure seekers needs.

Experience Canada's most terrifying haunted attraction! This Halloween season we have even more terrorizing attractions than ever before! We promise to bring your worst fears to life and eject blood curding screams that you only thought existed in your nightmares!
Join us at Bingemans Oktoberfest in Kitchener Waterloo, now with TWO festhalles! Celebrate in both Kool Haus and Paulaner Haus with just one ticket! Enjoy craft and German brews, VIP Lounges, and the Ultimate Bavarian Feast! Prosit!

Experience the completely immersive physical fantasy world escape rooms at EscapeworX! Try to escape The Sorcerer's Study, Shafted and Emergency Exit before your time runs out!
---
Looking for a traditional camping experience? Bingemans Camping Resort is located along the picturesque Grand River. We are uniquely situated in Southern Ontario, in the heart of Kitchener-Waterloo and within close proximity to Guelph, Cambridge, Hamilton London and Toronto. We offer a camping oasis unlike any other without having to leave the city.
With over 320 campsites and 139 seasonal sites, we offer a unique location for tent, trailer, and RV camping. Rustic log cabins and upcycled container cabins rentals are also available for those looking for the camping experience without a tent and trailer.
Need some assistance in planning your camping trip?
Contact us and we would be happy to help you make the most out of your Bingemans Camping Resort experience.
Are you a first time camper? Peruse our "Beginner Camper Check List" to assist you in your planning.
We look forward to your stay!