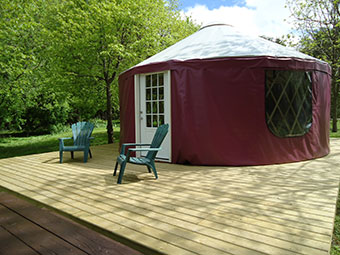 Bingemans Camping Resort is ideal for groups, with so many nearby activities there will be something for everyone in your group to enjoy. We regularly host camping rallies, family reunions, scout troops, church outings and have the ability to reserve areas to suit your group's needs. We can also provide indoor meeting/event space to accommodate people up to 1800 people in our convention facilities, located a walking distance from your campsite. Group discounts start at a minimum of 10 campsites.
We can provide you with assistance in arranging and booking off-site trips and tours, catered meals, events and the private use of our various recreational facilities including:
Book our group yurt for a completely unique group camping experience. This yurt sleeps up to 9 people and features a mini fridge, electrical outlet, fire pit and picnic table and is located within close proximity to water supply and washroom and shower facilities.
BOOK NOW
---
Please contact your Camping Resort Manager to learn how we can provide your group with a Grand Experience.
Contact Information
Camping Resort Office
1-800-565-4631
(519) 744-1231 ext. 2250
E-mail us: camping@bingemans.com