ABOUT US
At Kingpin, we believe that every visit should be a new adventure. That's why we have entertainment options to suit any taste. Whether you're looking to celebrate a birthday, gather with friends and family, hold your next corporate function, or even host an exclusive event, our modern lanes with cozy couches, effortless computerized scoring, and giant projection screens provide an entertaining experience that is second to none.
We are the premier bowling and entertainment venue for Southwestern Ontario. With 28 state-of-the-art 10 pin lanes, including 8 dedicated to SPARK® bowling; Kingpin Bowlounge is the perfect choice for all things fun.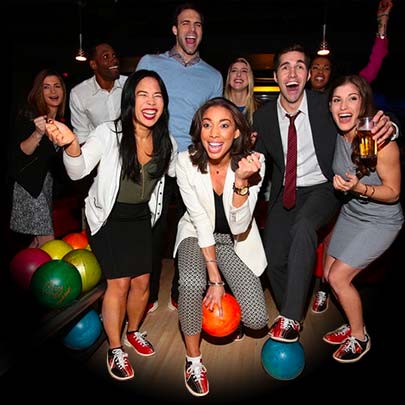 Home of Canada's largest Boston Pizza restaurant, serving up delicious food and drinks for any occasion. And for those looking for even more fun, we have Waterloo Region's largest outdoor patio and a huge licensed GameworX Arcade!
Come join us at Kingpin Bowlounge and experience the ultimate in bowling and entertainment.
---
LET'S

SOME FUN
At Kingpin Bowlounge, we're proud to offer Ontario's premiere opportunity to encounter the industry's first immersive and interactive bowling, SPARK®. Surround yourself in a mesmerizing, one-of-a-kind experience that delivers the latest games and entertainment to your own lane via augmented reality projection technology. The future of bowling, SPARK® allows you to choose between fifteen imaginative themes, light up the lane in incredible graphics, and even project your own photos while bowling.
SPARK® makes bowling exciting and fun for all players, from beginners to professionals. it really brings that casual bowling session to another level. With state-of-the-art laser projection technology, get ready to bowl in a whole new way. SPARK® turns your bowling experience into unforgettable fun that feels like you're in a new location for each game.
Come join us at Kingpin Bowlounge and experience the ultimate in bowling and entertainment.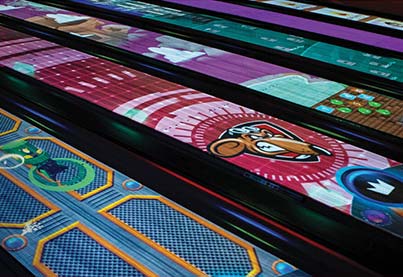 BOOK NOW