In The Community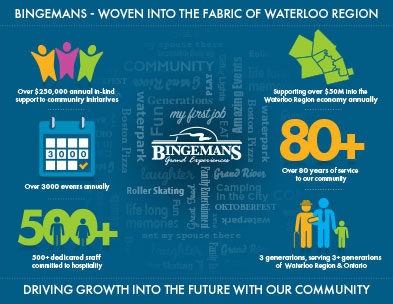 Donation Requests
Bingemans is committed to getting involved with and giving back to the community. In-kind donations are issued throughout the year to a variety of fundraisers that support not-for-profit organizations, registered charities, school fundraising initiatives and more! Please note that Bingemans donates to several causes throughout the year and at this time we have reached the limitations of our donations program. Bingemans is currently not accepting donation request, however please keep us in mind for 2020 when our new donation program is launched. Thank you for your interest in Bingemans, we wish you the best of luck with your event. If you have any questions, please email marketing@bingemans.com
Food Not Waste
Bingemans participation contributed to over 7,300 lbs. of food being redistributed to those in need. That's over 6,000 meals!
Event Facilities
If you are looking for event facilities to host a banquet or gala we have many options available to suit your needs. Our corporate sales team will be happy to customize a package to help you meet your goals!
Big Splash Waterpark
Have a summer FUNdrasier at Big Splash! Everyone loves the waterpark, so why not turn it into an event that your guests will want to attend every year. Your group can either receive a portion of the ticket sales for the day of your choice or make it even splashier and rent the park to hold a private evening Luau.
FunworX
Have a party at FunworX for all your friends. Bingemans can provide complimentary general admission tickets for a specific night to sell and your group keeps all the proceeds. This is available Sept - June on Monday, Wednesday or Thursday nights.
Kingpin Bowlounge
Organize a bowling night out or a bowl-a-thon. Customize your event by building a food and bowling package, sell tickets or have participants collect a minimum amount of pledges to participate in the bowling event. Two weeks' notice is required to guarantee lane availability, limited number of weekends may be available.
Boston Pizza at Kingpin Bowlounge
Organize your group to join us for lunch or dinner, on a specific day, provide us with the receipts and we will donate 10% of the total value back to your group. This is available Monday to Wednesday.
Discounted Vouchers
If you are planning an event with a gift item for participants (i.e. golf tournament, etc.), ask us about our promo bundles that we can provide for you to add value to your event for your participants.
Special Event Tickets
Many of our special events can be used as fundraisers: Oktoberfest, Screampark & more! We can create a custom promo code for your group that will give your supporters a discount and a donation back to you!
In The Media
Bingemans energy and vision will influence us in 2016
Exchange Magazine - Jan/Feb 2016
Bingemans promises 13 Hours of Hell at zombie camp-out
TORONTO STAR - If you've ever wondered if you could survive a zombie apocalypse, here's your chance to see how you'd fare
"Glamping" at Bingemans
Bingemans Camping Resort was recently featured on CBC's The National
Bingemans to add Boston Pizza, bowling to attractions
A major expansion at Bingemans will add a 28-lane bowling facility and a family restaurant to the huge conference and recreation complex, the company said in an announcement on Tuesday.
Bingemans president Mark Bingeman said a Boston Pizza restaurant and a Kingpin Bowlounge will go into an addition that will double the size of the current FunworX indoor playground building off of Bingemans Centre Drive in Kitchener.
Bingemans makes its water park 'bigger and splashier'
KITCHENER - Bingemans is updating its water park to make it "bigger and splashier," with five new slides that will replace some older ones.

The new slides will add features to the Big Splash water park that were not there before, said Carolyn Marsh, marketing co-ordinator for the Kitchener amusement park and conference centre. Read more